Health, Healing, Yoga, Fitness & Dance
The Common Well
The Common Well provides advanced massage, neuromuscular therapy and movement re-patterning.  These therapies goes beyond releasing and relaxing your body in a general massage way.  It address the need to make measurable changes that result in increased mobility, pain reduction, and improved quality of life. Explore both long and short term goals, to create a customized plan,  and feel a difference in your body.
---
RoCo Dance and Fitness
The class list is long and the teachers are exceptional.  For Adults:  Latin Dance Fusion, Modern, Ballet, Cardio Hip Hop, Jazz, Contemporary, Bollywood, Afro-Brazilian, Cardio World Dance, Modern Jazz, Samba, Zumba, Hip Hop, Aerial, Urban Contemporary, Belly Dancing, Pointe, and, actually, more!  If you love dance, there's got to be something here for you.
For Youths: Hip Hop, Intro to Dance, Brazilian Dance Fusion, Aerial, Modern, Contemporary, Jazz, Breaking, Ballet, and Pointe.
---
Studio C Ballet
Professional training for all ages and abilities, certified ABT (American Ballet Theatre) National Training Curriculum.  With a staff of highly qualified instructors, the studio is led by Claudia Alfieri-Wallace who trained at the School of American Ballet in New York City. Chosen personally by Mikhail Baryishnikov, she started her professional career at the age of 16, she has performed as a soloist with American Ballet Theatre, Boston Ballet, San Francisco Ballet then Smuin Ballet;  including such repertoire as the title role in Giselle, Swanhilda in Coppelia, Tatiana in Onegin and Desdemona in Othello.
---
Yoga Mountain Studio
Yoga Mountain Studio offers a broad range of classes, a friendly atmosphere and caring and knowledgeable teachers. The online reviews of students make this a 5-star studio.  Described as peaceful, quiet and simple, Yoga Mountain Studio offers  classes in Yin, Restorative, Hatha and Vinyasa yoga.
---
Frogs – Spa & Massage
A one-of-a-kind public spa facility featuring a community hot tub, two private hot tubs, a cold plunge, a mixed sauna and a women's sauna, a clothing optional sun deck, Frogs clearly has a lot to offer.  But there's more.  There is a staff of licensed massage therapists that employ a wide range of techniques: Swedish, Esalen, Deep Tissue, Shiatsu, Acupressure, Lomi Lomi, Polarity, Trager, Sports, Neuromuscular, Cranio-Sacral and Thai.
The Community Wellness Center
The Community Wellness Center is a cooperative of highly-skilled, local practitioners including acupuncture, Chinese medicine, mind/body techniques, massage/body/energy therapies.   The Center provides treatments for pain relief, injuries and inflammation, stress reduction, allergies, immune support, pms, digestive issues, accident and surgery recovery, headache, and pediatric issues. The Center employs holistic health care  principles.
---
Sol Studios
Sol Studios Fairfax is a local Yoga, Music & Movement Studio that offers a variety of classes and styles practiced in both heated and non-heated environments. Enjoy monthly music & performance events as well as holistic health presentations. Offering classes seven days a week. All classes are multi-level and recommended for both new and experienced students alike. We take special pride in offering a relaxed, supportive and joyful environment for all to practice yoga.
---
Women's Fitness Center and Spa
Great atmosphere, clean equipment, never overcrowded with a hardwood floor space and a wide selection of props: balls, straps, mats, weight, kettlebells, balance equipment.  And many classes to choose from. Plus steam room, hot tub and sauna.
---
Marin Tai Chi
With 28 years experience, Hal Mosher teaches six curriculums of Chinese martial arts.  Some classes are held in Fairfax, others in different locations in Marin. There are classes for children, seminars, workshops and a teacher training course.
---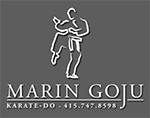 Marin Goju Karate Do
Marin Goju Karate Do practices a traditional Goju Kai training program, and offers classes for kids and adults of all physical levels. The study of Goju Ryu will create a stronger, healthier, connected individual all through the training of basic movements. Like day to day life, traditional Goju attempts to find the extraordinary in the disciplined practice of the basics. It's this dedication that can lead us to our ultimate goal of true character development.
---
Fairfax Gym
Members say it's got the necessities, is never crowded and has a friendly staff.  You can have a real workout, without ever leaving in Fairfax.